THEATRE REVIEWS FROM OVER THE YEARS

1) REVIEW: "The Wake" at Premiere Stages (published 2019-07-13) -- (UNION, NJ) — It's easy to deny what you don't see.  That's one of several themes in Tammy Ryan's wonderful new play The Wake, which is being presented by Premiere Stages now through July 28th.  The play, which won the 2019 Premiere Play Festival, deals with issues involving family, marital problems, nature, the environment and climate change.  In each area, it's clear that problems are easier to overlook when you don't see them directly.

2) REVIEW: "A Doll's House, Part 2" at George Street Playhouse (published 2018-12-04) -- For well over a century the world has been wondering what ever happened to Nora Helmer from Henrik Ibsen's classic play A Doll's House.  Nora was a woman during the 19th century in male dominated Norway when women could not sign contracts without their husband's permission.  She challenged this law, essentially committing forgery.  And, even though she committed a crime for the purpose of saving her husband's life, her actions wound up destroying her marriage when someone tried to blackmail her. 

3) REVIEW: "Fern Hill" at NJ Rep (published 2018-08-16) -- (LONG BRANCH, NJ) — The latest World Premiere at New Jersey Repertory Company is Fern Hill by Michael Tucker.  Wonderfully directed by Nadia Tass, the play features an all-star cast and a story about three couples in the latter half of their lives who come up with a rather intriguing way to avoid a retirement home.

4) REVIEW: "Linger" at Premiere Stages at Kean (published 2018-07-18) -- (UNION, NJ) — Craig Garcia's new play, Linger, gives new meaning to the term "nuclear family" and offers a powerful story, terrific performances, and fine direction by John J. Wooten.  Sadly, it has also changed the way I'll remember my favorite song by The Beach Boys.  I will never hear it without thinking of this play.

5) Night With Oscar Is A Night of Laughs at George Street Playhouse (published 2018-06-09) -- (NEW BRUNSWICK, NJ) — George Street Playhouse's temporary home on the Rutgers' campus was host to a star-studded cast for a benefit reading of Eugene Pack's Night With Oscar on Friday, June 8, 2018.  Proceeds from ticket sales and a post-show reception with the cast went to the theatre.

6) REVIEW: The Nerd at George Street Playhouse Is Hilarious! (published 2018-04-29) -- (NEW BRUNSWICK, NJ) — George Street Playhouse is closing out their season with The Nerd by Larry Shue.  The production, which runs now through May 20th, features an amazing cast in an extremely funny comedy. The first act is simply hysterical.  The second is comic genius.  You seriously can't help but laugh out loud at this wonderful comedy directed by Kevin Cahoon.

7) REVIEW: "Trying" at George Street Playhouse (published 2018-03-18) -- Playwright Joanna McClelland Glass has a story to tell. In her 20s, she was hired by former Attorney General Francis Biddle to help him finish his memoirs.  That in itself could make for a fascinating tale, but the real story comes from building a relationship with someone who was once one of the most powerful men in the world.  The two engaged in a battle of wits with the young woman more than holding her own.  Her story is told in Trying, the latest production at George Street Playhouse.

8) REVIEW: "American Hero" at George Street Playhouse (published 2018-02-07) -- (NEW BRUNSWICK, NJ) — One of the best plays last year in New Jersey was American Son by Christopher Demos-Brown at George Street Playhouse.  He returns with American Hero - the second in what will be a trilogy of plays exploring American injustice.  From the explosive opening scene until to the end one thing is clear - George Street has found an emerging voice that truly has something to say.

9) REVIEW: "An Act of God" (published 2017-12-17) -- (NEW BRUNSWICK, NJ) — One thing you can count on with George Street Playhouse is to present plays that challenge the audience.  The theatre company is never afraid to shock audiences or test limits.  Unfortunately, challenging theatre is not always good theatre. And we are reminded of that as David Javerbaum's An Act of God heads into its final week.

10) The Honeymooners Is A Riot! (published 2017-10-10) -- (MILLBURN, NJ) — Whether you are a die-hard fan of The Honeymooners or have never seen the classic television show, Paper Mill Playhouse's latest World Premiere is a treat.  The history of television shows moving on to the stage has been a dicey one at best, but The Honeymooners has figured out the right formula. The play is hilarious, touching, and includes great music and dancing… Of course, having an absolutely tour de force performance by Michael McGrath as Ralph Kramden doesn't hurt either.

11) REVIEW:" Skeleton Crew" by Premiere Stages at Kean University (published 2017-07-17) -- (UNION, NJ) — Imagine working in an industry that is seemingly falling apart with plant closings announced each month and the threat of your own job being eliminated weighing heavily on your mind each day.  That's the premise behind Skeleton Crew by Dominique Morisseau, which takes place in Detroit (circa 2008) when auto plants were downsizing, shutting down, and moving outside of the area.

12) REVIEW: Curvy Widow at George Street (published 2017-05-08) -- (NEW BRUNSWICK, NJ) — The death of a spouse is a rather odd choice of subject matter for a musical comedy, but Curvy Widow pulls off the trick in fine style. Led by Nancy Opel, the final play to be staged at the current George Street Playhouse building is the perfect choice to close this chapter of the theatre's history and begin looking forward to the next.

13) REVIEW: Million Dollar Quartet at Paper Mill Playhouse (published 2017-04-05) -- (MILLBURN, NJ) — Imagine being a fly on the wall during one of the greatest moments in rock and roll history… that's the premise behind Million Dollar Quartet, which lets you see an impromptu jam session with Elvis Presley, Johnny Cash, Jerry Lee Lewis, and Carl Perkins. Paper Mill Playhouse revives this play with an amazingly talented cast. As to be expected, the music is sensational. What I didn't expect was how much comedy would be in the play as well. Million Dollar Quartet is often described (and generally derided) as a jukebox musical, but it has created a rather fascinating back story as well. As Johnny Cash warns, "An atom bomb is about to go off in there tonight." There is more to the story than just the music and calling it merely a jukebox musical fails to do it justice.

14) REVIEW: "Bad Jews" at George Street Playhouse (published 2017-03-28) -- ​(NEW BRUNSWICK, NJ) — The hatred is real, and the hatred is beautiful. It's the type of hatred that can only stem from a relative - someone you know by blood. Picture the hatred between two people who have known each other for their entire lives, but can't stand to be in the same room. That's the energy which drives Bad Jews by Joshua Harmon, a hilarious comedy that is on stage at George Street Playhouse until April 9.

15) REVIEW: Murder On The Orient Express (published 2017-03-27) -- (PRINCETON, NJ) — There's just one weekend left to see the World Premiere of Agatha Christie's Murder On The Orient Express at McCarter Theatre Center and I can't rave enough about this wonderful production. Emily Mann directs the classic story adapted for the stage by Ken Ludwig (Lend Me a Tenor, Crazy For You) who manages to craft a masterful whodunnit tale while finding the humor in the work and the story's zany characters. But, as always, the train is the star.

16) Multiple Family Dwelling: It's a Bed Of Lies (published 2017-03-11) -- (LONG BRANCH, NJ) — Multiple Family Dwelling by James Hindman takes place in the present day in Mt. Clemens, Michigan - a rather downtrodden neighborhood where Kelly and James own a house they live in and rent upstairs. They have just gotten rid of their current tenant and plan on having their friend Tia move in with her fiance Stuart. It's the latest World Premiere at New Jersey Repertory Company and one that examines which is worse: telling a lie or living with one.

17) REVIEW: American Son (published 2017-02-15) -- (NEW BRUNSWICK, NJ) — George Street Playhouse promotes American Son as a story ripped from today's headlines. The play, by Christopher Demos-Brown, is a chilling look at a family's nightmare — a situation involving their son, an abandoned car, and the police — and how the world sees an 18 year old black man.

18) REVIEW: The Jag at NJ Rep (published 2017-01-16) -- (LONG BRANCH, NJ) — Have you ever seen a car take a curtain call? You will if you see The Jag at New Jersey Repertory Company, and the curtain call is definitely earned. While the cast of three actors does a superb job telling the story, it is the car (a 1967 Jaguar) that plays the role of the character who is not seen that ties the story together.

19) REVIEW: Godspell at The Eagle Theatre (published 2016-11-30) -- Chances are, you've never seen a production of Godspell like the one heading into its final 2 weeks at The Eagle Theatre. Performed "In the Round," the play lives in an entirely different atmosphere - one in which the audience is very much part of the show and the theatre becomes a virtual playground for the actors. The end effect is like somewhere being part of a Church revival rather than simply watching one and seeing an episode of Schoolhouse Rock performed live on stage.

20) Paper Mill Delivers With "The Producers" (published 2016-10-05) -- The first show of a season is generally important, but the first show after winning a Regional Tony Award is really important. It means everybody is paying closer attention to you now. Paper Mill Playhouse (winner of the 2016 Regional Tony Award) pulls out all the stops and delivers with The Producers, proving that they're ready for the extra attention.

21) Last Week For "Ma Rainey's Black Bottom" at Two River Theater (published 2016-10-03) -- (RED BANK, NJ) — Sadly, there are just seven performances left of Ma Rainey's Black Bottom, which closes on Sunday, October 9 at Two River Theater. In what might be August Wilson's angriest and most powerful play, Two River provides the definitive August Wilson production. Everything from the cast to the set is absolutely perfect. If you have not been able to see the production yet, grab tickets for the remaining shows while you can.

22) REVIEW: Las Cruces at Premiere Stages (published 2016-09-04) -- When Las Cruces opens, you don't know why a man is breaking into an old camping trailer set in the New Mexico desert in the middle of the night, but your mind certainly imagines several scenarios. People don't simply rent trailers in the middle of the desert - much less break into them. As the play evolves, the mystery unfolds. He is a man separated from his wife who carries a great amount of pain and guilt. In essence, he is a man trying to escape a parent's worst nightmare.

23) REVIEW: Iago at NJ Rep (published 2016-08-31) -- (LONG BRANCH, NJ) — James McLure's Iago opened last week at New Jersey Repertory Company in Long Branch. It is the New Jersey Premiere of a seldom seen work by the late playwright who died in 2011. The play offers a fascinating look inside the world of backstage romances. But we're not just talking about a leading man falling for his leading lady, we're talking about a triangle between a husband and wife team and her new lover - all in the same cast. And there's more…

24) REVIEW: Struck at NJ Rep (published 2016-07-08) -- (LONG BRANCH, NJ) — The latest World Premiere at New Jersey Repertory Company is Struck by Sandy Rustin. On stage now until the end of the month, the play is a comedy involving a woman who was "struck" by a young bicyclist in New York City who works for ancestry.com. As the play opens, we see the injured Vera Resnick hobbling into her apartment on the Upper West Side, helped by her husband Nate. She's in good spirits. In fact, she feels oddly connected to the biker and wonders if the accident might have had a higher purpose.

25) REVIEW: Villainous Company at NJ Rep (published 2016-05-11) -- (LONG BRANCH, NJ) — Villainous Company is not so much a whodunit, but more like a who's doing it to who now fest. The quick moving production features three women in a highly entertaining madcap caper as they play a game of cat-and-mouse. Running straight through without intermission, the play contains more than enough twists and turns to keep you thoroughly interested in the story. Written by Victor L. Cahn, the play is currently enjoying its NJ Premiere at New Jersey Repertory Company in Long Branch, NJ.

26) REVIEW: Nureyev's Eyes at George Street (published 2016-02-11) -- (NEW BRUNSWICK, NJ) — George Street Playhouse opened a wonderful production of Nureyev's Eyes by David Rush last week. It is a fascinating fictional account of the relationship between the painter Jamie Wyeth and the Russian ballet dancer Rudolf Nureyev. The play stars William Connell (Wyeth) and Bill Dawes (Nureyev). From the moment they hit the stage, the world becomes one of two tortured artists. One who seeks to rise to the standards set by his family of famous artists; the other who fights comparisons to his lover for the title best dancer in the world.

27) Nobody's Girl Has A Shocking Story To Tell (published 2015-08-24) -- (LONG BRANCH, NJ) — Nobody's Girl by Rick Viede is a classic NJ Rep play. It's a throwback to the highly experimental works you would have regularly seen a decade ago by the Long Branch company dedicated to presenting new plays. While the past few years have featured many outstanding new plays with extremely talented casts, some of the plays were — dare I say it — a bit mainstream for the company. Nobody's Girl returns to the world of psychological mind games with twists and turns and scenes that flat out surprise the audience. It's a disturbing, often hilarious, and sometimes shocking return to form.

28) REVIEW: Buyer & Cellar (published 2015-03-09) -- (NEW BRUNSWICK, NJ) -- If you're a regular patron to shows at George Street Playhouse, you might be taken aback by the set for Buyer & Cellar. Instead of the lavish sets you are accustomed to, you'll notice a set that's very plain and bare. It is designed this way because Buyer & Cellar lives more in the audience's imagination than on stage. And your host is John Tartaglia, someone born to play this role.

29) REVIEW: Vanya and Sonia and Masha and Spike (published 2015-02-03) -- (MILLBURN, NJ) — Paper Mill Playhouse presents Vanya and Sonia and Masha and Spike by New Jersey native Christopher Durang now through February 15. The play, which was originally commissioned and produced by McCarter Theatre in Princeton, went on to become a hit on Broadway, picking up the 2013 Tony Award for Best Play and the Drama Desk Award for Outstanding Play.

30) REVIEW: The Whipping Man (published 2015-01-25) -- Matthew Lopez's The Whipping Man is a powerful, emotionally-draining drama that is brilliantly produced by George Street Playhouse. Running now through February 15, George Street has outdone itself with this production. It's a play about the choices we make in life; how they define us, and what they say about the people we are. Featuring an outstanding cast and crisp direction from Seret Scott, the play should definitely be on your radar as a must see production.

31) Poor Little Rich Girl -- A Review of Swimming At The Ritz (published 2015-01-21) -- "One thing about money is that you can never have enough," says socialite Pamela Churchill Hayward Harriman in Charles Leipart's, Swimming At The Ritz. She's an utterly amazing character — one that found a way to parlay a good name ("Churchill") into husband after husband and fortune after fortune… that is, until the money runs out which is where the play begins.

32) Paper Mill's ELF is Spectacular! (published 2014-12-01) -- (MILLBURN, NJ) — One of the hottest gifts this holiday season may be a ticket to see Elf at Paper Mill Playhouse. The theatre has created a fantastic, lavishly designed show that not only captures all of the magic of the 2003 film, but actually exceeds it. It's a wonderful musical that takes full advantage of the Paper Mill stage, a huge ensemble, and the ability to create sets on the fly allowing us to fully experience Buddy the Elf's trip to New York City.

33) REVIEW: The Fabulous Lipitones (published 2014-11-24) -- You don't have to be a fan of barbershop quartets to enjoy The Fabulous Lipitones, but ideally you come for the music and leave with the message.

34) REVIEW: Angels and Ministers of Grace (published 2014-10-29) -- (LONG BRANCH, NJ) — There's a lot going on during Angels and Ministers of Grace and nothing much going on. The latest world premiere at New Jersey Repertory Company offers quirky characters, multiple storylines, and fine acting, but gets a bit lost during the way and winds up resembling a soap opera.

35) REVIEW: Outside Mullingar (published 2014-10-22) -- (NEW BRUNSWICK, NJ) -- There's an entire world outside Mullingar, but not to Anthony Reilly and Rosemary Muldoon. The two have known each other all of their lives, growing up on neighboring farms. As the play begins, we see their worlds becoming even smaller.

36) Review: Dinner With The Boys (published 2014-09-22) -- (LONG BRANCH, NJ) — Before each play, Gabor Barabas (Executive Producer at New Jersey Repertory Company) gives a little speech in which he tries to sell attendees on a season subscription, points out the emergency exits, and urges them to be ambassadors and tell their friends about the show. As a theater company that almost exclusively presents new works, word of mouth is vital for the company. But before the start of "Dinner With The Boys," Barabas took a very different approach.

37) "Butler" Is Brilliant! (published 2014-06-16) -- "Running away is easy... the only thing is we didn't have any place to run to." (LONG BRANCH, NJ) — New Jersey Repertory Company has world premiered many plays during its 17-year existence in Long Branch, but "Butler" — the company's latest production — just might be my favorite to date. Based on real life events that changed the lives of more than 10,000 slaves, the play is expertly constructed by playwright Richard Strand, superbly acted, and uplifting as it shows how simple decisions can truly change the course of history. It's an often hilarious look at a particularly important part of the Civil War that history books often ignore.

38) Wasserstein's Work Shines Again In Two River's Production of "Third" (published 2014-06-11) -- In the late sixties, Laurie Jameson began her work as a college professor at an elite, New England liberal arts college. As the Vietnam War raged on, Jameson was a rebel, fighting the establishment and its traditional views. Well known throughout academia for her work, she's challenged thirty years later by a student that is able make coherent and sometimes brilliant arguments against the values she holds deeply. In short, she has become the establishment and the student, Woodson Bull III, is the new rebel.

39) "Grease" At Paper Mill Is The Perfect Kick Off To The Summer! (published 2014-06-03) -- (MILLBURN, NJ) — There's just something about "Grease" that makes it one of the quintessential musicals of all-time. The story includes the universal high school concepts of fitting in and self-identity, falling in and out of love, and the play contains wonderful characters and the 1950s vibe, but, in the end, it's all about the music. The songs have the uncanny ability to be silly and sincere at the same time, and you'll undoubtedly find yourself singing along. As the production at Paper Mill Playhouse proves "Grease" is still very much the word. It's nearly impossible not to smile during this performance. The show is too much fun.

40) Review of A View Of The Mountains (published 2014-04-29) -- (LONG BRANCH, NJ) -- New works are nothing unusual for the New Jersey Repertory Theatre Company, but rarely do they get the opportunity to debut a new work like A View of the Mountains. Written by Lee Blessing, the play is a sequel to his brilliant A Walk in the Woods, which was nominated for the Tony Award and Pulitzer Prize in 1988. The staging is quite the coup for the Long Branch theatre company.

41) Review of "Clever Little Lies" (published 2013-12-01) -- (NEW BRUNSWICK, NJ) -- Marriage is difficult. Ask anyone that's ever been married and they're bound to admit that there are moments in time that threaten to unravel all of the good memories accumulated over the years. "Clever Little Lies" is about such moments. An outrageously funny comedy, "Clever Little Lies" offers more than just laughs. This well-written play (making its world premiere here) evokes the relationship tension of Edward Albee, the non-stop barrage of one-liners a la Neil Simon, and the morality of Arthur Miller.

42) Turning 40 Has Never Been So Much Fun! (published 2013-10-08) -- (NEW BRUNSWICK, NJ) -- Whether you thought the eighties were awesome or not, you're bound to have an awesome time at "Getting the Band Back Together". Based on what I saw, the season opener for George Street Playhouse will not only be a major hit locally, but will very likely shoot up the road and be a hit on Broadway for the next few years. More of a comedy than a straight musical, it's the type of play that has universal appeal; it's got wonderful music, is very funny, and puts forth the optimistic mantra that it's never too late to follow your dreams. It has just the right amount of campiness, hilarity, and sentimentality; and the music is pretty good too!

43) "Broomstick" Rides Into Long Branch (published 2013-09-26) -- (LONG BRANCH, NJ -- SEPTEMBER 21, 2013) -- NJ Rep's latest premiere, "Broomstick", opened last weekend. Set in a remote cabin deep in the woods, the one-woman play is a fascinating study into the mind of a serial killer told as if it was a fairy-tale. It's sort of like Dahmer meets Hansel and Gretel. It's spooky, funny, and extremely well acted -- perfect to get you into the spirit of Halloween.

44) Review of Saving Kitty at NJ Rep (published 2013-07-29) -- (LONG BRANCH, NJ -- JULY 27, 2013) -- In the 1988 hit film, Who Framed Roger Rabbit, there's a line in which Jessica Rabbit says, "I'm not bad, I'm just drawn that way." That was the feeling I was left with after seeing "Saving Kitty" at NJ Rep. With the character named Kate, playwright Marisa Smith has created one of the most annoying, mean-spirited characters I've ever seen. If you're a fan of watching people on "American Idol" rip into the contestants you'll probably enjoy this play; if not, you're in for a bit of a rough ride.

45) "Two Trains Running" at Two River Theatre (published 2013-02-20) -- (RED BANK, NJ) -- I can still remember a conversation I had once with an African-American playwright from Asbury Park. We were talking about influences and I mentioned August Wilson's name. He hadn't heard of Wilson yet. I said, he's a brilliant playwright who penned a 10-play series on the African American experience in America. The guy said, "Why does every white playwright think they can just write about our experiences?" I replied, "He's not another white playwright..."

46) Review of "Ants" at New Jersey Repertory Company (published 2013-02-14) -- (LONG BRANCH, NJ) -- As a guy married to someone in academia, I never imagined the concept of a college professor sleeping with a student very funny; yet, there I was last Saturday night laughing -- quite often -- during the world premiere of "Ants" by Saviana Stanescu at New Jersey Repertory Theatre. This quirky comedy takes a look inside the world of ants, offspring, and how our two species are more alike than you'd think.

47) REVIEW: "Good People" at George Street Playhouse (published 2013-02-02) -- (NEW BRUNSWICK, NJ) -- The acclaimed play, "Good People" by David Lindsay-Abaire, opened at George Street Playhouse on February 1st with another one of the theatre's stellar casts. Dealing with the concept of the choices we make and the luck or support needed throughout one's life, the play takes a stark look at the social class structure as seen within South Boston's Lower End and Chestnut Hill regions.

48) The Best Of Enemies (published 2012-12-03) -- (NEW BRUNSWICK, NJ) -- "There's a lot of hate here," said Ann Atwater, an African-American civil rights activist in Durham, North Carolina around 1971. Ann is one of the central characters in Mark St. Germain's "The Best of Enemies" play. The others include C.P. Ellis, a Grand Cyclops of the KKK, and Bill Riddick, a community organizer who attempts to bring the pair together during the desegregation of the Durham schools. It's a remarkable story about racial tension, changing times, and the goodness that is in all of us. Best of all, it's a true story.

49) Review: "Annapurna" at NJ Rep (published 2012-10-14) -- (LONG BRANCH, NJ) -- New Jersey Repertory Company continues its long history of premiering new works with the East Coast premiere of "Annapurna" by Sharr White. This is the 85th new play produced by NJ Rep in the company's 15th year -- truly a remarkable achievement in an era in which people have a tendency to go only to plays that already know or which have a big name star involved. Some of their debuts are brilliant, some not so much; "Annapurna" is somewhere in between. It's a play with a lot of potential, but could use some tightening.

50) Father Knows Best In One Slight Hitch (published 2012-10-07) -- (NEW BRUNSWICK, NJ -- OCTOBER 5, 2012) -- It's rare to say that a play has a killer soundtrack, but a great 80s playlist is one of the many joys of Lewis Black's play and helps set the tone for "One Slight Hitch". The play, which opened on October 2nd and runs until October 28, is the season opener for George Street Playhouse.

51) Outstanding Production Of Topdog/Underdog At Two River Theater (published 2012-09-17) -- (RED BANK, NJ) -- Two River Theater Company kicked off its 2012-2013 season on Friday, September 14 with a wonderful production of Topdog/Underdog by Suzan-Lori Parks, who also serves as director. This powerful drama was nominated for a Tony Award for Best Play during the 2002 season and earned a Pulitzer Prize Award for Parks. The play, which tells the story of two brothers (Lincoln and Booth) and the world of three-card monte, stars the real-life brothers Brandon J. Dirden and Jason Dirden.

52) Review of "Twelve Angry Men" at George Street Playhouse (published 2012-03-22) -- (NEW BRUNSWICK, NJ) -- In a hot jury room lacking air conditioning, twelve jurors gather for a quick vote on whether or not they believe a young man is guilty of murdering his father. If they all agree he is guilty, he gets the electric chair. The vote, which must be unanimous either way, is 11 to 1. The lone vote comes from a man who isn't convinced the boy is innocent, but doesn't believe his guilt is certain either.

53) Review of August Wilson's "Jitney" at Two River Theatre Company (published 2012-02-05) -- (FEBRUARY 4, 2012 -- RED BANK, NJ) -- August Wilson's Jitney opened last night at the Two River Theatre Company in Red Bank. Wilson is undoubtedly one of the most important playwrights of the last fifty years and one of my personal favorites as well. A star-studded cast comprised of former Tony, Obie and Drama Desk winners, and veterans of Wilson's work, brought the play to life under the expert direction of Ruben Santiago-Hudson.

54) The Nutcracker And I (published 2011-12-10) -- Around this time of the year, I always pity the person in charge of event calendars at arts publications. There's only so many times you can type "The Nutcracker", "A Christmas Carol", or "Handel's Messiah". Trust me, I've been there and speak from experience.

55) REVIEW: God Of Carnage at George Street Playhouse (published 2011-05-14) -- (NEW BRUNSWICK, NJ) -- "God of Carnage," an outrageously funny comedy, closes out the season for George Street Playhouse. The play involves a meeting between parents of two 11-year-old boys that got into a fight where one was badly injured.

56) Review: The Subject Was Roses (published 2011-02-14) -- (NEW BRUNSWICK, NJ) -- Timmy Cleary returns from war, but finds himself smack in the middle of the on-going battle between his mother and father in Frank Gilroy's The Subject Was Roses, a powerful family drama playing at George Street Playhouse now through March 6. Michael Mastro, who was part of the cast for George Street's productions of The Pillowman and The Sunshine Boys, returns as director. He leads an exceptional cast comprised of Chris Wendelken (Timmy Cleary), Lee Sellars (John Cleary), and Stephanie Zimbalist (Nettie Cleary).

57) Theatre Review of Tick...Tick...BOOM! (published 0000-00-00) -- NEW BRUNSWICK, MARCH 20 -- Turning thirty was clearly the theme last night as the George Street Playhouse closed out its thirtieth anniversary season with the premiere of tick, tick... BOOM!. The musical by the late Jonathan Larson (creator of Rent) runs until April 11th and is another can't miss production from George Street. Unlike many musicals, tick, tick... BOOM! was created for the rock and roll crowd and whether you're in your twenties or have long passed the 30 mark - the show's message will hit close to home.

There are hundreds of stories linked on the right. It's nice to finally have them all collected in one place.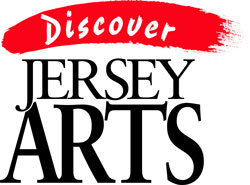 written for Jersey Arts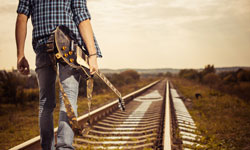 Music: features | reviews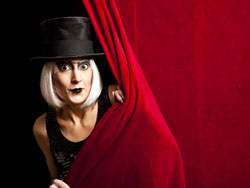 Theatre: features | reviews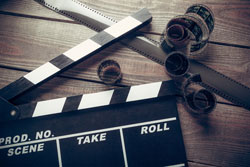 Film/TV | Comedy | Dance | Art